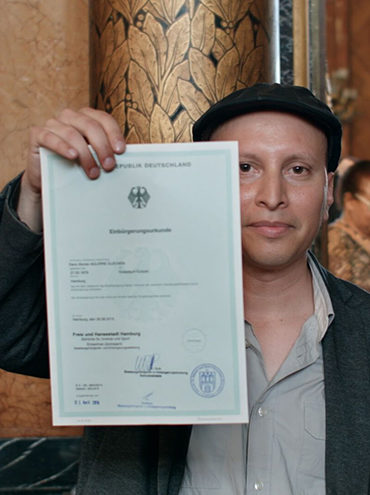 Documentary | D, CH | 2018
Büchner Filmproduktion GbR and RECK Filmproduktion
Rise And Shine Worldsales
Initially Dario moved from Ecuador to Germany to be with Stephanie. But from the very first day there was a third party in their relationship: government agencies. They issued him 10 visas during the following 15 years. A long trail of papers, stamps, permits and restrictions connected Dario to Germany whilst also keeping him at a distance. Until one fine day the mayor of Hamburg invites Dario to become a German citizen. A profession of love? Dario responds with a tender-ironic road movie that traces his intertwined journey from the country of his fathers to the country of his children.
Protagonists
César Aguirre
Mariuxi Guevara
Andreas Tonn
Christa Tonn
Stephanie Tonn
Script and Direction
Darío Aguirre
DoP
Helena Wittmann
Darío Aguirre
Sound
Michael Gentner
Miguel Murrieta
Karsten Krause
Editing
Ulrike Tortora
Darío Aguirre
Dramaturgy
Herbert Schwarze
Music
Sven Kacirek
Animation
Victor Orozco
Artistic advice
Christiane Büchner
Project advice
Marieanne Bergmann
Sounddesign
Guido Keller / Magnetix, Zürich
Grading
Ueli Nüesch / Lab 54a GmbH, Zürich
Production manager
Stephanie Tonn
TV editorial
Monika Schäfer
Ulrike Dotzer
Producer
Tobias Büchner
Franziska Reck
Santa Barbara International Film Festival - US Premiere
The SBIFF shows 'Land of my children' as part of the Documentary Competition on Tue 5.2. at 2 pm at the Metro 4 Theatre.
Santa Barbara International Film Festival - US Premiere
'Land of my children' celebrates US premiere at the SBIFF on Sun 3.2. at 11am at the Metro 4 Theatre.
Nordic Film Days - Lübeck
'Land of my children' will be part of the 60. Nordic Film Days Lübeck. The film will be presented on November, 1st at 10:15 am.
Filmfest Hamburg - Metropolis-Kino
'Land of my children' celebrates Germany premiere at the Filmfest Hamburg on Sat 29.9. at 4:45 pm at the Metropolis cinema, Kleine Theaterstr. 10, Hamburg

Darío Aguirre's life is a balancing act from his old home in Ecuador and his new home. The filmmaker made an impressive documentary about the journey through the German bureaucracy.
NDR Fernsehen, DAS! - 20.9.2018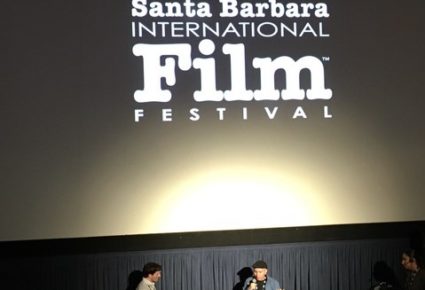 Day 5: Films to see […] Intriguing documentary filmmaker Dario Aguirre, an Ecuadorian-in-Hamburg now with official dual citizenship, returned to SBIFF this year, triggering memories of his sweet and inventive earlier film screened here, Caesar's Grill, about his father's restaurant in Ecuador. With his fascinating new film, Land of My Children, the ostensible storyline is...
What a premiere at the Hamburg Film Festival. A sold out cinema, great applause! Interesting talks afterwards. Thanks Hamburg!